Second After Earth Trailer Online
A second HD trailer for Night's upcoming After Earth is now online, and it's absolutely chocked full of previously unseen footage!
quizzes

Test your Night Nowledge (sorry, you knew it was coming) with this twenty-question quiz on the man himself.
...TAKE QUIZ
contact us

Please note: we are not affiliated with M. Night Shyamalan.
about night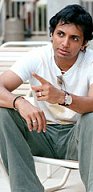 Shyamalan was raised in Penn Valley, Pennsylvania, United States a suburb of Philadelphia after his doctor parents emigrated to the United States. He attended a private Episcopal school in Philadelphia, and then he attended New York University's Tisch School of the Arts. While at NYU, he contrived his new middle name, "Night."

In 1993, Shyamalan married Indian psychologist Bhavna Vaswani. They have two daughters and currently reside in Pennsylvania.Shyamalan attended New York University's Tisch School of the Arts. It was here that he made up his middle name....more